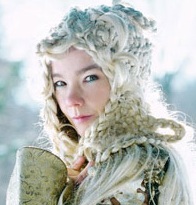 Many people have called David Bowie a chameleon, but he is nothing compared to Björk. She has gone through many transformations both physically (how she looks) and sonically (how her music sounds) since her solo debut in 1993 with Debut. Being from Reykjavík, Iceland, her accent and tonal voice goes against nearly all of western culture's pop sounds. Here is the progression of her sound though each successive album:
Debut: A very expansive album, probably more-so than any of her following albums. It contains a mix of dance, earthy, new age, beat-centered songs. The beat-driven aspect is a vein or theme that does run through all of her music.
Post: More abstract. Just listening to the opening tracks "Army of Me" makes it obvious where she wanted to go with this new album (following the platinum Debut.) Possibly a bit darker… just a progression. Björk describes it as being more "extreme".
Homogenic: My favorite album. This album is definitely in my top 10 of all time. The beats are much more pronounced, scattered, and massive. Homogenic just has an epic sound to it. The song Pluto (2nd to last track) has become the song for her to perform and/or close with. Its griding and distorted synths, vocals, and beats make it raw and brutal. "Emotionally, this album is about hitting rock bottom and earning your way up. So it's the darkest album I've done emotionally, but it's got a lot of hope."
Vespertine: Much softer. The sound that characterizes Vespertine is very angelic. "Vespertine is sort of a winter album for me. I think Homogenic was very summer, very hot, burning desert." It has a light sound that seems to float away.
Medúlla: When it was released, Medúlla received quite a bit of backlash. It was Bjork going against what her fans had grown to know and love: beats and synths. It didn't matter whether hard or soft, but beats and synths combined with her other-worldly vocals

are

Björk. Medúlla has nothing other than human voices on it. Being fairly new to Björk when Medúlla came out, I enjoyed the sound. It is her most different album so far. It pushes our voices as instruments to their limits.
Volta: Yet to be released, the sound of Volta has been revealed only through interviews with Björk and a leaked track titled "Earth Intruders". Volta is said to be very brass centered. Björk collaborated with quite a few artists for Volta, including Timbaland. We'll see how it turns out, but "Earth Intruders" is amazing to say the least.
So that basically wraps up Björk as an ever changing artist. Just go look at some pictures of her, and you will realize what I mean when I say that she is a chameleon. She is truely a musical genius who has remained relevant through the fickle tastes of pop culture that are constantly changing.