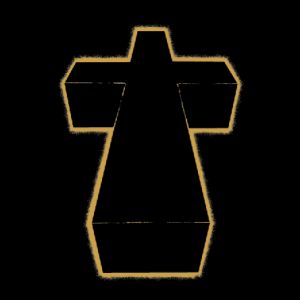 This might be completely ridiculous on my part, but I still haven't decided (for myself) whether Justice really is Christan or if they are just playing the part. Now as to this new LP coming out in about a month titled "†", I think I might have found a bootleg floating around somewhere, and I might have a review right here for you! A song by song review can be found about 1 centimeter below:
Genesis (7/10): A nice opening track. The intro to the song was what they opened Coachella with (I believe). The beat is strong throughout, it could have done with a bit more variation or development of the samples used. Good track, not their best.
Let There Be Light (8/10): Once again, good track. I'm glad that they put one of the tracks that develops with an industrial edge right up front on the record. This track was released on the Waters of Nazareth EP.
D.A.N.C.E. (9/10): The current single floating around right now. Probably the most catchy song to be found by Justice. I don't know where they found this sample, but it is genius. The way that they can mix a catchy beat perfectly with a chopped vocal sample is amazing. Hints of disco or funk tidbits begin to show themselves here.
New Jack (6/10): This song just doesn't do too much for me. The samples seem too mix/matched; there isn't any continuity among them. It has all of the driving forces that Justice is known for, but their choice of samples here falls short. The warble comes in at an inappropriate time, and it stays too long. Not a fav.
Phantom Pt. 1 (10/10): Following New Jack with Phantom Pt. 1 brought my spirits up. Phantom Pt. 1 was released on the D.A.N.C.E. EP, and it is by far my favorite track on †. Just turn it up in your best pair of headphones, and you will see why I say this. Talk about a rockin' electro track. The sample used here has been identified as being from Goblin's Tenebre. After comparing the original track to Phantom Pt. 1, it is safe to say that this is in no way a rip off of another artist's work. The sample has been chopped to pieces and put together in a truly Justice-esque manner.
Phantom Pt. 2 (9/10): The first time listening to this track, you will probably be confused. It seems overly random. The good news? Once you actually get the tune, this song rocks. It carries over the industrial overtones of Pt. 1 and adds some disco flavor into the mix. Great track.
Valentine (7/10): "Valentine", to me, seems like a very long intro to "The Party". It is a good track, but doesn't seem to serve much of a purpose. It's stuck in here. Not needed. Also, is it just me or does it sound like they sampled Britney Spears' "Me Against the Music"? I speak of the airy noise at the beginning. I know it could come from anywhere, it just that it reminds me of that song.
The Party (7/10): A song with actual lyrics that don't sound like they are sampled (because they aren't). I'm not sure who sings, but the lyrics are meant for a party song (hence the title). The problem is that there isn't too much music to go along with the fun lyrics. The music seems like a continuation of "Valentine". It could use a bit more of a kick. Sounds like Three 6 Mafia is sampled here.
DVNO (6/10): While so many people are praising the vocals of this track, I can't stand them. Don't get me wrong, I don't reject vocals off the bat if they are falsettos. I reject them if they don't sound good. Compiling this problem is the fact that they drop the music out in the middle of the track; now I have nothing to distract me from the horrible vocals. The music itself isn't half bad. It's a mixture of their signature distorted beats and disco stabs. Least favorite track on the record.
Stress (8/10): The title of this song is really evident is the music. The tension of the song is heightened by the high pitched strings that can be heard throughout the track. I really do like this song though. The last strands of disco are evident here. They are minor, but they contribute all the same.
Waters of Nazareth (10/10): Second favorite track on the record. This was the first song by Justice that I ever heard. After hearing it, I had Justice categorized as an industrial group. Definitely wrong. This song rocks from start to finish. The distorted samples kill your ears without relenting for a second. If you can't stand the first 10 seconds, get out, the song just compiles on top of itself from there on. Pure electro joy.
One Minute To Midnight (9/10): A great closing track; "One Minute to Midnight" closes much better than "Genesis" opened. A slight downer track with a sweet baseline that makes you rock back and forth. It lets you calm down after the massive electro explosion that happened during the previous track. Continuous and true to Justice, it is a nice way to end this musical journey.
† is set to be released on June 11, 2007 on Ed Banger Records.