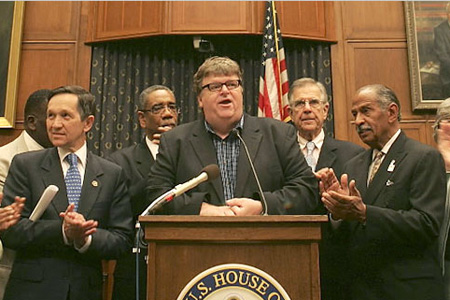 Google, in a suprizing and dissappointing PR move, has decided to come out against Michael Moore and offer to place HMO ads directly across from search results that include SiCKO. Why? Because Google believes that:
Moore attacks health insurers, health providers, and pharmaceutical companies by connecting them to isolated and emotional stories of the system at its worst.
Like many people, I have already seen Michael Moore's SiCKO, the film about the sad state of the health care system in the United States. I saw the movie before it came out in theaters because Moore let it known that he wants people to torrent it, and that he didn't mind at all that it was ripped to YouTube (although later taken off). But that's beside the point.
I am fairly confused at Google's reaction to the movie. Is this Google's first overt move to reject it's public user-base, turning instead to the big business ad customers? Of course, Google has more money to make by doing what it has done, but is it really worth it? SiCKO has received near universal praise for its criticisms, and I agree with the New York Times when they say that it is a "cinematic indictment of the American health care system."
Apart from the purely capitalistic point of view (which is that Google is doing the right thing), today's market relies on more than just your big money customer base. Companies must look out for the public, and I find this especially true for Google. While we, the average searchers, aren't the ones directly paying Google, we are the ones looking at the ads. We don't hold the large wallets, but in our massive numbers, we hold far more power than the businesses Google is trying to cater to.
This move by Google confuses me. I really hope that this does not become a trend in Google's business tactics; it could lead to the gradual diminishment of one of the largest internet companies we know.
Update: Google has retracted the statements of their employee.