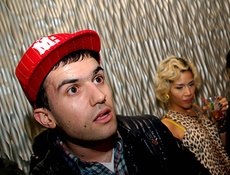 Everyone loves tons of taxidermies surrounding them when they go to shows, right? No? Oh well. Last night at the LA County Natural History Museum, Kid Sister & A-Trak put on a great show surrounded by deers, seals, and buffalo.
Because it was one of the museum's First Fridays events, the night started with a presentation on the topic of elephant communication. Apparently, elephants have huge brains and are considered extremely intelligent mammals. They communicate not only through vocalizations, but also through vibrations transfered from the ground through their feet similar to how some insects do.
It was sometime during this presentation that I realized that this is how the government should fix the declining education levels in the US: have cheap concerts with up-and-coming indie artists at museums, and require kids to come to the museum an hour early to attend a session like this to get tickets. I really think that most people have a genuine interest in learning, but that school is so boring that learning is associated with a unidirectional lecture (and resultant sleep). But back to the music…
A-Trak came out around 8 and spun some hip hop while flaunting his amazing mixing skills here and there. For those who don't know, A-Trak is Kanye West's DJ, he won the DMC World DJ Championship in 1997 at the age of 15 (youngest ever & first Canadian), and he owns Fool's Gold Records. While his first set was great, it was coming out of some crap speakers, which put a damper on things at first. After standing in front of those speakers (in the front row), my ears were kinda shot, so it didn't really matter.
At around 8:40, Kid Sister came out and put on a great set. She did every song of hers that I know and more. Her songs are so perfect to sing along with because of the simplicity of the hook. After about a half hour set that consisted of Control, Damn Girl, Pro Nail, Beeper, Telephone and others, she finished with Switch Board. It's neither here nor there, but during Control, she came off the stage, and I happened to hold her hand for a few seconds… That's how you get fans.
After Kid Sis finished up, A-Trak kept the energy up with some great electro that included stuff by Simian Mobile Disco, The Prodigy, Justice, SebastiAn, Spank Rock, and some of his own remixes of Digitalism and Kanye West. He progressed back down into more hip hop, and ended on a solid note. I think of the DJ sets I've been to, I'd most liken A-Trak to Flosstradamous. Both spin electro and hip hop superbly.
It was a great night. While I paid a whopping $6.50 for my tickets, it turned out that USC students get into the museums for free, so a friend here paid nothing (I ordered mine early). It was a bargain either way.