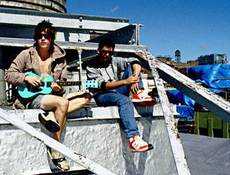 The best way that I can describe the music that MGMT makes is "nostalgic." For a broad audience, this probably isn't the best adjective to use, but it was the first word that came to mind when I was going through their debut album "Oracular Spectacular." Now that they've gotten relatively big for a brand new indie band (they've done Letterman, SXSW, and have two music videos), I'm pretty sure that they are my favorite recently discovered band that I will see at Coachella this year.
MGMT falls into the category of new hipster bands making music that combines punk, electro, and pop. There's nothing wrong with this, Klaxons won a Mercury Prize for doing the same, but at a certain point, it's hard to differentiate between the many bands taking up this formula. MGMT has been able to differentiate itself not by progressively pushing the genre's boundaries, but by perfecting the art of making an old-sounding new style with keyboards, guitars, and drums.
I'm sure that what you just read is probably a cliche description of many bands now-a-days, but it's the best I could come up with. Essentially, MGMT is a duo with playful sound that captures what the indie-electro-punk-retro style is all about. Their sound might be psychedelic pop, but not so much as Of Montreal. I think just really good music.
This year they will be playing at both Coachella and Bonnaroo, and it's probably safe to say many other festivals as more and more dates and lineups are announced daily. As for the Coachella lineup, they are part of what make the midline bands amazing this year. If you miss them this year, don't come crying to me next year when you're kicking yourself in the butt.
MGMT Videos