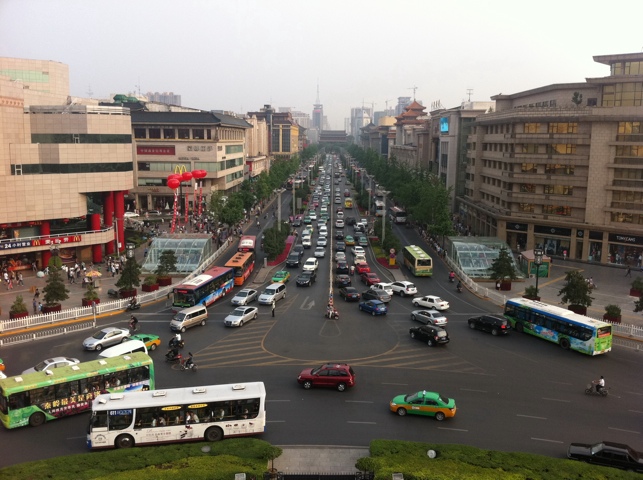 We're on the bus to the airport, and this guy is standing outside crying because his girlfriend is on the bus with us. They're talking on the phone. I have no idea where she's going, this like a horrible chick-flick that Tim would watch.
Joel wants him to come on the bus with us and just fly with her wherever she's going. I think they clearly need time apart.
So yes, we're leaving Xi'an today and flying to Hong Kong. Xi'an was great, and for people who don't speak Chinese, really easy to get around in. There's no subway, but their busses are fine, and the city is walkable enough.
We started our two day stay by going to the Terra-cotta Army on Monday. Although our hostel had a tour group that goes everyday, we decided to go on our own so that we could go at our own speed and see what we wanted to see. As was recommended to us, we saw the three halls in reverse order (3-2-1) so that it'd get better as we went. If you ever go, definitely do the same. As for my impressions, I don't think I have a very original take on the site, but it really is amazing that things like this were ever constructed. The army is considered the eighth wonder of the world for a reason.
We wandered around the center of the city for the afternoon and wound up in the Muslim Quarter. It's essentially a big market with tons of little shops and restaurants to check out. Pretty much the perfect place to people-watch.
(side-note: I'm listening to NPR's All Songs Considered podcast right now, and this group BOBBY is incredible. The song called We Saw builds like the best of 'em.)
Yesterday was our walk-around-te-city day. We left the hostel around 10:30 (also, I've dedicated myself to making 24-hour time second nature before I get back) and took off for the Big Goose Pagoda which was outside of the city walls. Throughout the day, we hit up the Big and Little Goose Pagodas, an antique marketplace, a Buddhist temple, a Catholic church, a Taoist temple, the Bell Tower, and wrapped up with dinner and haggling in the Muslim Quarter. I snagged a pair of super-real looking Ray Bans for 20¥ (the shop owner started at 170¥, so I'd consider that a successful buy.) It was a day filled with walking, and we were dead afterwards, but it was worth it.
Now we're at the airport waiting to board our flight. Fun stuff.
Can't wait to get to Hong Kong to meet up with Pat and Andrew again. We're also going to see some old 'SC CC (Catholic Center) friends Thomas Chow and Brian Lang.