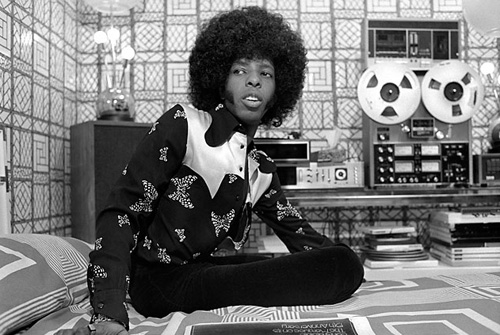 While I write up my posts for this year's Coachella Valley Music and Arts Festival, here's something to tide you over. I wasn't able to see Sly Stone on Sunday, but from what I've read, I missed quite a show! Not that it was full of music or anything…
This had been the rumor, and suddenly it was true: the original Family Stone back together again. But the original band included Sly, and Sly wasn't playing along. "Fuck rehearsal," he said, sitting behind a keyboard at the front of the stage.
This post by Ben Greenman at The New Yorker summarizes his experience watching the webcast of the "performance" in pretty entertaining detail. One of the guys who I went to the fest with mentioned that this might happen, that Sly is known for pulling this stuff. But I just brushed it off thinking back to how everyone doubted Aphex Twin would actually come in '08, but he showed up and gave us quite the sonic pummeling. Looks like my friend was right.