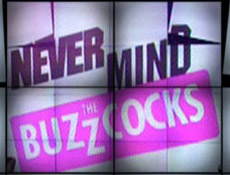 Now that we're truly feeling the effects of the writer's strike, unless you're willing to give up TV or start watching horrible shows, it's time to find new shows for your viewing pleasure. Never Mind the Buzzcocks (NMTB) is one such show. The only problem is that it's on BBC2, so I have to watch it on YouTube.
The show's current incarnation consists of host Simon Amstell, team leaders Phill Jupitus and Bill Bailey, and four other guest contestants (two on each team). Guests are usually consist of current indie music stars, past has-been music/tv/movie stars, or and other people who can be made fun of. While this sounds like a game show, think of Whose Line Is It Anyway. That's how gameshowy NMTB is.
There isn't much to NMTB, and all I can say about it is that it consistently provides for the funniest half hours of my day. Simon Amstell teamed up with the two regulars play off of each other and the guests excellently. Just picture them making fun of Amy Winehouse in her semi-inebriated state not completely aware of what's going on around her. Need a taste? Here's a collection of the best moments of the episode she was on:
http://www.youtube.com/watch?v=ihFzr8QPfOg
If you don't find that funny, I'm sorry for wasting your time and that you don't have a good sense of humor. I can't say enough about this show. It's funny, teaches me about good music, and gives me indie cred… Indie cred is always nice, right?