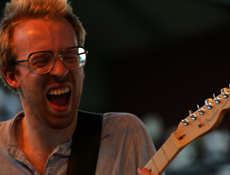 If you think seeing Hot Chip twice in three days sounds like fun, let me tell you, it definitely is. I speak from experience. Coachella Saturday = Hot Chip & the Mayan Monday = Hot Chip. Both great, but very different.
I believe that this whole ordeal earned a bit of back-story, so here goes. Back way before February, I bought tickets to a tiny Hot Chip show at the El Rey. It was one of two shows that they were going to be doing in the states, and the other was out in New York. I was so pumped, but the day of the show, it was cancelled due to an illness in the band. After a few weeks, the Goldenvoice email went out announcing a makeup date at the Mayan in APRIL. Talk about a long wait.
Free Blood
So the end of April rolled around, Coachella happened, and I was ready for another dose of Hot Chip (my first dose away from a festival setting). Opening the night was a New York duo called Free Blood. I'd never heard of them before, but I really enjoyed their set. Their sound consisted of pre-recorded tribal/heavy/electronic beats with the guy playing bass and singing along with the girl. While it was a high energy show for a lesser-known opener, one thing that I was impressed by was the fact that they timed their set perfectly. It's always nice when openers have figured out the right time where you're enjoying what you're hearing and you're not tired of it yet, but you will be in about two songs. They stopped before the two songs. Good set all around.
Hot Chip
I guess I should start the Hot Chip portion of this by saying that seeing Hot Chip in a hot, sweaty, packed Coachella tent is a far different experience from seeing them at a nice LA venue. To be completely honest, I prefer the Coachella environment. It's something about everyone being packed together and completely in love with what they are experiencing at Coachella that makes it that much better. Then again, seeing Hot Chip at the Mayan was great because of the much longer set time, and it's just a more intimate setting.
Look down at the set list, it pretty much sums up the fact that their latest album Made In The Dark is amazing live. So many of the songs translate perfectly to Hot Chip's live performance which is pretty far removed from the sound of their records. The live show is so high energy that it's hard to recognize that the live songs are the same ones on the albums.
My personal favorites when performed live are "Boy From School", "Out at the Pictures", "Shake a Fist", and (of course) "Over & Over". There's something to be said about a band that can recreate the sound of their songs so that they flow together but stay distinct when played live. Hot Chip has perfected this art. 
As I said before, this show was the replacement show for what should have been their first stop in the US back in February, and they acknowledged the fact by saying that they would play their asses off. Honestly, I think they put more effort into the Coachella show. Maybe the shorter set time puts pressure on bands to filer out any sort of filler, but it just had more energy in the air than the Mayan show.
Set List
Shake a Fist
Boy from School
Hold On
Bendable Poseable
Touch Too Much
Over & Over
Out at the Pictures
Wrestlers
Crap Kraft Dinner
One Pure Thought
Ready for the Floor
Made in the Dark
(encore) Don't Dance
No Fit State / Nothing Compares to You
Privacy of Our Love
The three photos below are from riotphotography on flickr.