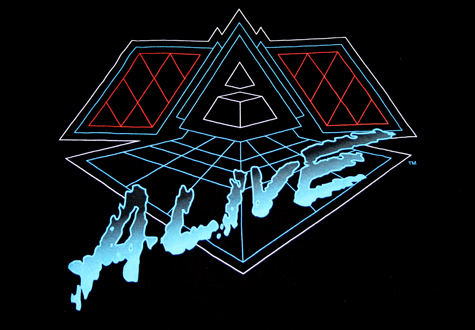 I almost feel bad writing this, almost sorry for you. But I also feel that I would be doing you a disservice by not letting you in on the most revolutionary concert I have ever been to. I can honestly say that the full 5 hours that I (and a friend) spent at the LA Sports Arena were well spent. Here is a rundown of the experience (because it was an experience).
We arrived at the arena at around 6:15 pm, and we were definitely surprized by the number of people who were already in line. It seemed like we had shown up for the wrong concert. There was only about 20 people in the Loge/Concourse line (our line) and probably about 40 in the Floor line (not our line). I know that the show didn't start until 8, but I honestly thought that there would be way more people.
So we go in around 7 when the doors opened and got prime seats in the Loge section with barely anyone around us. We sat around 'till 9:15 when SebastiAn and Kavinsky started spinning. There was a fair amount of people inside now, but it was clear that most people weren't too interested in the openers. I need to say that I love SebastiAn, and I am glad that they played more of his material than Kavinsky's (not my favorite).
Oddly, I noticed that I actually recognized a fair ammount of the songs that were mixed between their two sets (it was a DJ set to open and fill time between Ratatat and Daft Punk). Here's what I recognized:
Justice – D.A.N.C.E., Waters of Nazareth (Justice Remix), Let There Be Light (DJ Funk's Bounce Dat Ass Remix), Phantom Pt. II, and Genesis.
Uffie – Ready To Uff
The Prodigy – Smack My Bitch Up
SebastiAn – RossRossRoss, Head/Off, Walkman, Killing In The Name (SebastiAn Remix), Greel
Kavinsky – (I don't know the song, but it was obviously his, he has a distinct style)
Busy P – Rainbow Man
Let me say that the music was up so loud that every one of SebastiAn's songs hit like a knockout punch. His Killing In The Name remix was a song that my friend and I wanted to hear, and the crowd went insane when it was played near the end of the set (obviously Coachella kids in the crowd). Sadly, the remix ends before the "FUCK YOU, I WONT DO WHAT YOU TELL ME… MOTHERFUCKERRRRR!" part… I found the number of Justice songs being played to be kind of odd, but I love Justice, so it was welcome; I don't have a problem with inter-label promotion at all.
On to the actual live performances. Ratatat obviously had less stage space than Daft did (that pyramid doesn't appear out of thin air), but they don't really need much of a stage. Their music is amazing at that high of a volume. The bass really hits and the guitars whine all night long. Their DVD playing behind them was kind of cool, but their music is so unique that it blows me away every time I hear it. Great set. SebastiAn and Kavinsky spun again, and our attention was split between the DJs and the flashing test lights emmitting from behind the huge curtain pulled around the pyramid.
Finally the lights went out and the place erupted. Daft Punk opened just as they did in Coachella two years ago with the "HHUUMMAANN RROOBBOOTT" slowly gaining pace to preface Robot Rock. Much of what they did was the same as their recent concerts pertaining to the progression of songs and eventual introduction to different uses for their lights.
The first major change came came at Around the World (Harder Better Faster Stronger Remix) when the first "around the world" came and the entire floor lit up with the lights that were placed encircling the entire arena! It was amazing how perfect it seemed. The lights seemed to be the same kind of lights they have as the grid on either side of the pyramid. Watch the video at the end of the post and you will see what I mean. They look white in the video, but the can do every color just as the grid can.
From there on, it was nonstop dancing and French Touch killing everyone's preconceived notions about what a "show" should be. Because of the extended set time, Daft Punk played (what seemed to me to be, but wasn't…) an extended version of Too Long. Maybe they didn't, but I thought it was longer than the Coachella set (I have the full audio on my computer, it was normal). Oh yeah, there was one other reason why it was longer…
The encore. It was amazing. I didn't think that there would be an encore, and boy was I wrong. For a while, it seemed pointless standing there shouting for what seemed forever, but when the lights never came on, it was apparent that something was going to happen. Eventually they came back on stage and played what people have said was a remix of Music Sound Better With You. Then the new suits came out. They were amazing, and so was the way that they presented them (with the red light leading up to them through the stage. That topped it all off. If there was a question that Daft Punk is the best, there is no such question anymore.
Please, everyone, if you get the chance to see Daft Punk, do not pass it up. It will be an event that you will never forget. Also, if you were there, or have anything to say, leave a comment!
Update: I added a few songs I remembered (re-recognized) were played during the SebastiAn/Kavinsky set.
Continue reading "And I thought Daft Punk couldn't live up to the hype…" →