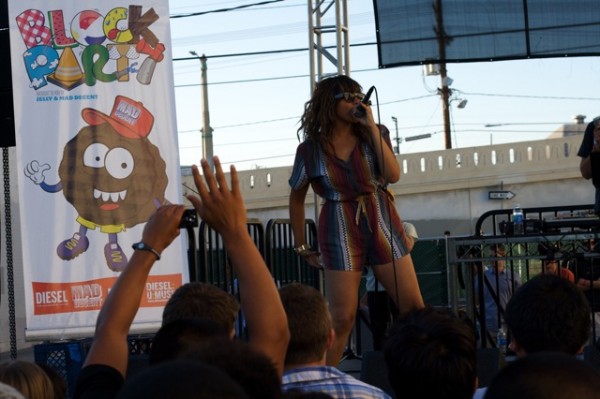 Mad Decent, a Philidelphia-based record label headed by Diplo, has put on block parties in Philly for the past couple years, but 2010 is the first time that it's taken the show on the road. This year they're hitting up three more cities. So far they've hit Philly and New York, and next weeks they'll be off to Chicago, but today the show descended on L.A.
When we got to the "Premier Events Center", which was essentially a city block in the gentrified part of downtown a few seconds from skid row, not too much was going on. We wandered around a bit, sat on the curb and talked, and made our way to the stage once Maluca started her set. I've heard of Maluca before, but never listened to her music. I'd liken it to Buraka Som Sistema, but the fact that my knowledge of anything characterized as "experimental tropical punk, ghettotech and hip-house" is quite limited, that might be a cheap comparison. Anyways, her set was great. She had two dancers up on stage, which gave the show some personality and livened up what could have turned run-of-the-mill very quickly (not that her music isn't intriguing, but one girl and a DJ on stage aren't much to look at.)
Next up was Bosco Delrey, who played a solid mix of harsh guitars and electronic beats for a while. One thing that I noticed about his songs (at least in a live setting) was that they were fairly long. Most artists making this kind of music tend to stick to 2/3 minute jams without really developing the ideas behind their songs. Delrey played songs that were 5/6 minutes long and had some actual heft to them.
Theophilus London followed up Bosco Delrey, and while his indie brand of hip hop was pretty great, the fact that Kid Sister came up right after him sorta made him fade away. Kid Sis was the surprise guest of the evening and did a short set consisting of "Big 'n Bad," a new song that I didn't recognize, and "Pro Nails." It was short but sweet, and she brought all of the energy she usually does to the stage.
Paul Devro came up next, and we stayed to enjoy dancing to Major Lazer's "Pon The Floor," a remix of Big Boi's "Shutterbug,"  and some other electro songs I couldn't quite place. Oh yeah, Andy Milonakis was on and off stage all day. Maybe it's because of this. After that we got out things together and headed out. Now I'm off to a Hercules & Love Affair show!