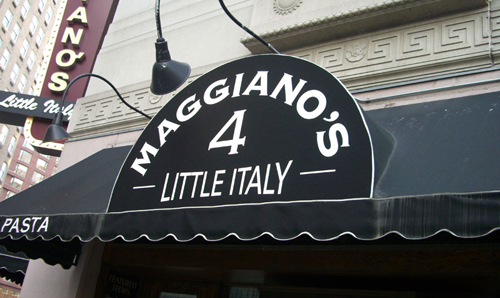 Kind of an odd title, but fitting nonetheless. Last night the USC Catholic Center got everyone together bused us to The Grove, a high end outdoor mall in LA (you might have heard of it…).
We started (and ended) the night at Maggiano's Little Italy Restaurant. While the plan was to originally to go to dinner and then move out to shop for a bit, store close at 9 at pretty much every mall. 9 is just a tad earlier than the 10:30 at which we finished dinner.
In case you are wondering why we were eating for so long, there are a number of reasons. One is that there were about 50 people total eating in our party, so even family-style dinner takes a while. Another reason is that there were three full courses. We got our pizzas, salad, and calamari as appetizers, the fettucini alfredo, lasagna, and salmon next, and some amazing chocolate cake and tiramisu for dessert. Amazing all around.
The kicker? The man who owns The Grove, Rick Caruso, also happens to be Our Saviour's (Catholic Center) biggest donator. Word is that it's because of his generosity that we are building a new center next year! Looks like it's a great time to be at USC! So we all had a great time out away from school, and I discovered where the closest Apple Store is to USC (I think).