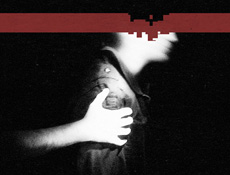 On May 5th Trent Reznor announced the immediate release of the Nine Inch Nails album titled The Slip. Along with the release new came word that the album was available for free download in MP3, M4A, FLAC, and WAV formats and comes with a PDF booklet. Unlike the release of the recent Ghosts I-IV, Reznor did not give fans the option to pay for The Slip. In the NIN.com blog post, Reznor gave fans this note:
(thank you for your continued and loyal support over the years – this one's on me)
As a long time fan of NIN, I headed right over to the download page, got my copy of The Slip in FLAC, threw it into iTunes, admired the album art (though I still don't understand what it means), and played through the new material. 
Album Review
The first thing I noted about the album was its relatively short length. At 43:45 it's well under an hour, which is fine by me. If there's one thing that I've recently noticed it's that I don't really have the patience or time to sit still through a full album if it lasts longer than an hour. Whether an hour genuinely is a good marker for an album or if I'm just abnormally impatient isn't too important, I'm just glad that The Slip can be taking in from start to finish is one sitting. 
On to the actual musical contents of The Slip. The album opens with the intro track "999,999", which leads into "1,000,000". "999,999" is a fairly generic building of an ambient industrial sound-scape that Reznor seems to be enjoying more and more these days. 1,000,000 is a more traditional NIN song with a distorted guitar, a simple drum line, and Reznor's vocals all layered on each other once for verses and reverbed back on each other for choruses. The rest of the album follows in similar fashion with a few more "single-quality" songs, a piano ballad, and a 7 and a half minute sound-scape arriving near the end of the album. 
One feeling that I got from The Slip is that Reznor isn't so much interested in straightforward industrial music anymore. I guess the feeling has been building since With Teeth, but The Slip is the first full NIN album that I could almost categorize as alternative metal. I don't think I like this feeling, but I loved Year Zero, and I sorta like The Slip. Hopefully this feeling is only coming on because The Slip feels like a promo for the upcoming tour that NIN will be embarking on (which I already have tickets for). 
The main reason why I don't have the hots for The Slip like I did for Year Zero is because it's relatively predictable. Year Zero was so varied and unexpected, yet it flowed perfectly. To me, The Slip seems like an extension of some Year Zero songs where fresh material should be instead. 
Beyond the Music
I started to get into this in the review section, but The Slip doesn't feel like a full NIN album to me. Maybe it's because of the fact that I didn't have to (or even get to) pay for it, but the album seems like a promo for the upcoming tour. Getting away from the fact that The Slip isn't my cup of tea, Reznor is truly putting his money where his mouth is when it comes to his views on the record industry. 
The models (or experiments) that he has been going through are fairly unprecedented. Please don't give me any crap about Radiohead, because I don't think that the release of In Rainbows holds any weight against the release of Ghosts I-IV and The Slip. In Rainbows was amazing, don't get me wrong, but if Radiohead was serious about trying out new models of selling and marketing their music, they wouldn't stop after one go around. 
My best guess right now is that Reznor is playing mind games with his fans, and that we are all too willing to play along. Not only is he building loyalty through producing good music, he is now giving us gifts for participating in his experiments. Reznor made well over a million dollars of pure profit with Ghosts I-IV, so in return he's giving us a full NIN album for free. With the antics that surrounded the release of Year Zero and the distribution methods being used now, Trent Reznor, who is already one of history's greatest musicians, is soon to be one of the great marketers and business men of the music industry.
PS: Upcoming Tour
Here's a few random notes about the upcoming NIN US tour. I have my tickets for the Seattle date because I'll be up in Redmond this summer interning for Microsoft. A friend and I are hoping to snag tickets for the LA date when the presale goes up. The supporting acts this go around include Crystal Castles, Does It Offend You Yeah?, Deerhunter, A Place To Bury Strangers, and White Williams. I'll be seeing Crystal Castles up in Seattle and Deerhunter in LA! Two amazing openers if you ask me. So exited!
Photos below are from the nineinchnails flickr feed.