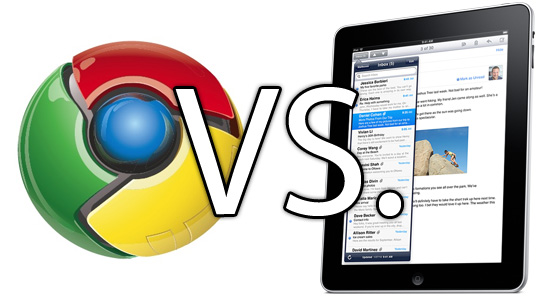 OK, I completely understand the insane generalization I just made with the title of this post, but when it comes to online video adoption, I think it holds true. Apple has made it very clear from the launch of the iPhone that it really isn't interested in working with Flash anymore. And as of the past couple weeks, Google has made it very obvious that it really isn't interested in always doing what Apple wants.
Everyone knows that the iPhone doesn't support Flash, and most people know that iPad arriving on Saturday won't support it either. For a while, it looked like Adobe and Apple were making headway in cleaning up Flash so that it could run on Apple's mobile devices without eating through battery life on the already life-strained devices. All that changed with the iPad. It's become apparent that Apple has no interest in Flash and would much rather everyone move on to HTML5's video tag.
As usual, when Apple says, "Jump," there's plenty of parties lining up asking, "How high?" In the past week, we've seen plenty companies announce that they've readied their "iPad compatable" sites that are devoid of Flash and HTML5 rich. The biggest of these announcement comes from Brightcove which lists customers like the New York Times, NPR, and the Wall Street Journal.
In opposition to this, and further feeding rumors of bad blood between the two, Google has fully integrated Flash into its Chrome browser and operating system. While the vast majority of users have already installed the Flash Player plug-in, it's interesting that Flash is comes prewrapped in Chrome because 1) it flies directly in the face of Google's public support of the HTML5 standard and 2) it shows Google's dedication to Adobe's Open Screen Project. Essentially, Google's sending mixed signals to the tech world. Are we supposed to completely support the new open web standards including HTML5, or can exceptions be made when a company (like Adobe) throws their proprietary technology in the mix saying it's needed to build a ubiquitous platform for developers?
My vote? I say go with HTML5. I think HTML5 has great potential, and new projects like SublimeVideo and RGraph are perfect examples of this. Flash has had its 15 minutes, and it's due time for us to dump it in favor of open standards.