Last night at the Key Arena in Seattle, WA, I witnessed a legendary rock band at it's finest. While I haven't been listening to Nine Inch Nails (NIN) from its Pretty Hate Machine days (come on, I was 3 months old), I have been listening for quite some time now. After I went through my industrial phase a few years ago, NIN was one of the few bands I kept with me. Trent Reznor has been one of the outspoken artists when it comes to digital rights management, and to still be relevant twenty years after releasing a 5-star album is incredible.
This is the first of a two part post/review on NIN's starting and ending dates (Seattle & L.A.) on their Lights In The Sky Over North America 2008 tour.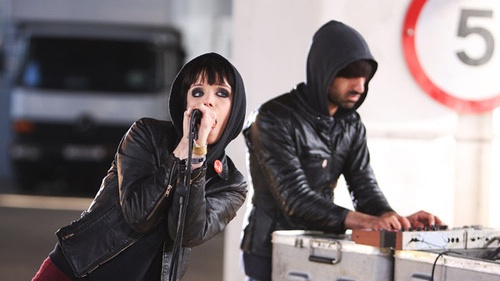 Crystal Castles
I'll admit that I'm into indie music, but not THAT into indie music. I still enjoy some pop music, hip hop isn't all bad, and I can appreciate classical and jazz music. That being said, Seattle's NIN fans made me look like the most hipster of all hipsters when Crystal Castles came on stage. How does no one in this city know who the biggest name in rising indie/electro/8-bit/screaming music is?
As you might be able to tell, I love Crystal Castles. I saw them for the first time about a year ago at the Neighborhood Festival, and I loved what they brought to the table. Since then, they have released their self-titled LP and have been touring around like crazy.
Obviously, I loved them at this show. Though their set was pretty short at about 25 minutes, they are just an opening band, and they fit in all the greats. For me, the standout song was Crimewave. I know it's not an entirely original song and that Alice sings the same chorus over and over, but when the opening synths start up, nothing else really matters. Of course, I also loved Courtship Dating, but I wish that she had actually sung the song instead of screaming and whispering it all (it kind of goes back and forth).
Nine Inch Nails
I'll admit that I looked at the setlist from the NIN show the night before the Seattle show, but it was just so that I could prepare myself for the amazingness that I knew I'd be in front of. I didn't watch any videos, and didn't try to find any bootlegs. I don't think that knowing the setlist beforehand is cheating, and I didn't really want to spoil what I knew would be come insane visual effects.
To say that I wasn't let down would be a grave understatement.
This show was what I consider to be the epitome of what a electronically infused rock show should be. First you have the music. NIN has been around for almost twenty years and has seven LPs worth of music to pick and choose from as a result. This set is nothing short of a best hits compilation fused with the key parts of NIN's more recent releases; songs from each and every album were present. But while the songs played are important, they are nothing if they don't sound good.
Trent Reznor has consistently written songs that fit his voice. He doesn't stretch it in the studio to hit those high notes that everyone know could only be hit once. As a result, his live vocals are always on point. In addition, this NIN lineup is arguably the best in history. It consists of Trent Reznor, Alessandro Cortini, Robin Finck, Josh Freese, and Justin Meldal-Johnsen. Aside from Trent, the standout here is Robin Finck, who has been playing with Guns 'n Roses as Slash's sporadic replacement for the past twelve years. It's great to have him back, and his dred-hawk is pretty damn sick. Every musician is spot on, and the only hiccups all night where technical ones, not musical mistakes.
So the music was great, what about these visuals that everyone has been buzzing about? I read an interview with Reznor from the New York Times that reads:
"What I'm trying to do is use the stage as an interactive instrument," Mr. Reznor said. "I'm in the world of science fiction now."
Trust me, NIN delivers, and here's what I gathered from the Seattle show. There are three massive dot screens (the ones made up of tons of tiny round lights that work like a TV screen). They are all at different depths of the stage, so they can all be layered on top of one another. There is one wall of 112 lights that rotate around and change color. There are a ton of hanging fluorescent lights that flash on and off during a portion of the show. Finally, the massive dot screens have some sort of light/heat sensor to tell when the musicians step up to them and dynamically change what they show depending on where the musician is. So how is this an instrument? For the Echoplex encore, one screen is used as a drum machine. Yes, a drum machine. It is one of those scream-out-loud-because-this-is-so-amazing moments. This is why I payed for presale tickets to get on the floor.
So if you can't tell, I loved this concert. NIN was able to combine stunning musicianship with brand new high-tech visuals to create one of the best rock shows I've ever been to. Remember, this is only part one of two. Don't expect part two to be this long, but I'll be back to mention if the show gets any better on the last North American tour date (L.A.).
Here's a rundown of the 28 (!!!) song setlist:
999,999
1,000,000
Letting You
Discipline
March of The Pigs
Head Down
The Frail
Closer
Gave Up
The Warning
The Great Destroyer
1 Ghosts I
25 Ghosts I
19 Ghosts III
Piggy
Wish
Terrible Lie
Survivalism
The Big Come Down
31 Ghosts IV
Only
The Hand That Feeds
Head Like A Hole
Echoplex
The Beginning of the End
The Good Soldier
Hurt
In This Twilight
Also, that sick picture of Trent is from laura musselman's flickr account.