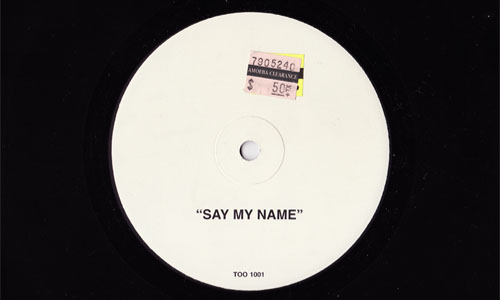 Destiny's Child – Say My Name (Unknown Remix)
On a recent trip to Amoeba Records, in addition to the records I wanted, I picked up a few $.50 singles sitting on the ground in the clearance bins to see what I'd get. The first of those singles is this horrible remix of Destinys Child's "Say My Name". As you can see, this record's label only had the song's title printed, and the sleeve it came in was plain and white.
Because I grew up with top 40 radio in the 90s, I knew the song, but I had no idea there was so many remixes and edits of it (one of which features Kobe Bryant rapping.) Because the label only says "Say My Name," I tried listening to every remix of the song I could get my hands on to find the remixer but to no avail. Here it is for your listening horror: Destinys Child – Say My Name (Unknown Remix)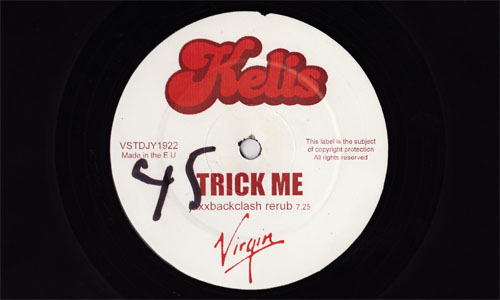 Kelis – Trick Me (Jaxxbackclash Rerub)
I also picked up this single of a Basement Jaxx remix of Kelis' "Trick Me."As you can see, whoever owned this record before me wanted to make sure that no one ever played this single as a 33 (which I did) and kindly wrote "45" on the label.
The original song is a highlight of its album, but I feel that this remix doesn't do Kelis or Basement Jaxx justice. If it had been done some no-name DJ, I might say it's an acceptable remix clearly just meant to make the original playable on the dancefloor, but this is Basement Jaxx we're talking about here. The single came out fairly soon after Kish Kash, so I'll brush this off as the Jaxx having used all their creativity at the time on their own album: Kelis – Trick Me (Jaxxbackclash Rerub)