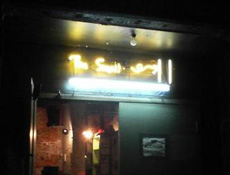 Last night I decided that I wanted to go to a show in downtown at a tiny underground indie/noise/punk venue called The Smell. Why? Because two of The Smell's brainchildren were performing: No Age & Mika Miko. Along with these two were The Strange Boys, Jay Reatard, and Disaster Bad Parents.
The night started around 8:30 when I caught the Metro 81 which was a straight-shot to where I needed to go. So I got off at my stop and started heading in what I thought was the right direction. I was able to make it in front of the No Age: Weirdo Rippers venue front, or back, as the real front is down an alley. It was apparent that I couldn't get in there as there was no door-handles and a guy who didn't look like The Smell's normal cliental told me to go through the parking lot; great advice, if the parking lot was open. So I wound up walking around the block until I came to a small alley that looked like it'd lead to the back of the building, which it did.
So I walked inside and got my $8 wristband (no pre-sale tickets), went to the bathroom (which is covered in graffiti and band stickers), and walked into the main-stage area where Disaster Bad Parents were beginning to play. They weren't really my taste of music, but The Smell is known for letting all kinds of music play, so no judgement passed. Next were The Strange Boys. I think that they have an average age of about 15, no lie. They were great, even though I think that they played a lot of covers. Their sound kind of bounced along without losing its classic punk sound.
Next up, to my surprise, was No Age. I figured that, since they are the biggest band coming out of The Smell, that they would be last. I was glad that they played third, because I had to leave at 11:40, and it was already around 10:30 (my bus left at midnight, and it wouldn't come again until 5). They were amazing. The waves of feedback and crazy drums were exactly what I thought No Age would be. For "Everybody's Down," the guitarist came out into the crowd and just walked around playing the repetitive chord progression while the drummer stood on an amp and sang the song. Then they got back into position and the song hit it's critical climax. All hell broke loose. It was a massive pit where no one was trying it hit anyone else. It was the nicest pit that I've ever seen. It was more of a pure enjoyment of the music instead of a violent collective.
Near the end of their set, some ass started yelling, "BORING…BORING…" So the drummer got pissed, and we threw him out of the club. Considering that No Age could fill venues many times this size, and they they come here because it's home, they pretty much rule the place. Anything that they say, goes.
Sadly, I couldn't stay for Jay Reatard and Mika Miko because I didn't really feel like missing my bus. Beign stranded in LA at night isn't very fun. Not that I know from experience, I just know how weird it is sitting at a bus stop while the homeless wander around behind you… So that was my night at The Smell. For $8, I'll be back.
Edit: Changed Retard to Reatard, thanks hopkin.