Last Friday I went to see the Kills opened by the Horrors and Magic Wands at the Music Box at the Fonda Theater in LA. I didn't care too much for Magic Wands (but they aren't bad by any means), so here are my thoughts on the Horrors and the Kills (both of whom I'm enamored with).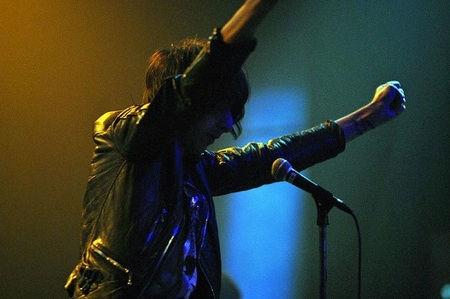 The Horrors
What do you do after you are one of the most hyped bands of 2006 with the world on your fingertips? If you are the Horrors, you lay low for two years after touring and in the meantime record an album that is incredible but sounds nothing like your debut.
I was hooked after my first listen to the Horrors' debut album Strange House three years ago. I loved that while there was something familiar in their songs, they sounded like nothing else I was listening to. Quite a bit has changed in the musical landscape since 2006, but the Horrors' new sophomore album Primary Colors somehow instills the same feeling as Strange House.
The five piece put on a great show for being an opening band. Ferris, their lead singer, has a great presence on stage. After going from nothing to the cover of NME, he still seems pleased that people are interested in the music his band makes. Luckily, the Horrors are impeccable live and have no trouble recreating the dense punk sound that Primary Colors contains. There wasn't much banter in between songs, they played pretty straight through their set.
As for the songs they played on this tour, you wouldn't know that they ever had a debut album if you just saw the setlist. They essentially play Primary Colors start to finish save for two songs. It's perfect – if you love Primary Colors; songs from Strange House are nowhere to be found.
The Kills
My new obsession. In the weeks leading up to Coachella 2009, I listened to their most recent album Midnight Boom start to finish and remembered how much I liked a few songs on their previous album No Wow. Since seeing the later half of their Coachella performance (and being completely mesmerized throughout), I've been watching/listening/reading everything I can get my hands on relating to the Kills.
The duo often gets compared to the White Stripes, but Meg White hasn't got a single thing on Alison "VV" Mosshart. And since the White Stripes haven't done much of anything lately, I'll take the Kills without complaining.
Hotel and VV might be the most compelling people I've ever seen on stage. It might be VV's long black hair as its own performace, or it maybe its the "chemistry" they have with each other while playing, or most likely, it's just the fact that the two exude coolness. It's not hipster snobbery; it's a feeling of not giving a fuck, but having everything line up perfectly that reels everyone in.
Now that they have three LPs out, finding solid material to play isn't much of an issue. Well over half of the songs on the setlist are hits with simple lyrics that can be sung along to. It was a great show all around (save for the tall ass with wiry blond hair who did nothing but instigate fights all night long). The last song of the encore was especially great as they invited the Horrors back out to do their 8+ minute version of Screamin' Jay Hawkins' "I Put A Spell On You." The song involved every wire on stage getting tangled around VV and the Horror's guitar player as they lay on the floor rolling around. It was great.
All in all, the show proved to me that the Horrors aren't going anywhere, the Kills are even cooler live than on record, and that I absolutely hate LA audiences.
photo credit goes to flickr user hazyskyline6