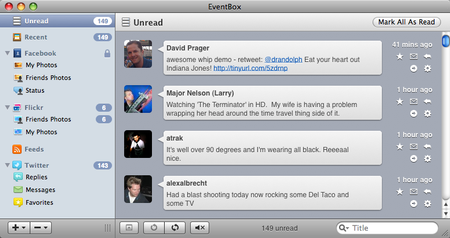 Seems like this new little app called Eventbox is getting all kinds of hype right now, so I figured I'd check it out to see if it's worth the $15 that its developer, The Cosmic Machine, is asking.
Functionality
While the functionality of an application is probably its most important aspect, in Eventbox's case, it's where it falls short. Eventbox tries to position itself as a place that brings together all of your friends' online social postings for your to view in one spot. It's essentially an RSS feed aggregator for social activity. As of v1.0, Eventbox supports gathering data from Facebook, Twitter, Flickr, Reddit, and RSS feeds.
While I'm all for what aggregators do (Google Reader is probably my most visited bookmark), there are far superior alternatives to Eventbox. Maybe if it supported more sites, although I can't think of too many more that interest me, Eventbox would seem more necessary. Feed aggregators are necessary because people read hundreds of site's postings, but as far as activity postings go, I only really need Facebook and Twitter. Two sites don't warrant a dedicated app that can't replicate each site's full functionality (Facebook is about a bit more than status postings).  FriendFeed, Netvibes.com's widgets, or any number of other online apps do Eventbox's job with much more finesse.
Design
Now that you know how ridiculous I think this app is, here's how incredible its design is. In all honesty, Eventbox is a shining example of why people get hooked on Macs when they switch from PCs. The icons, the layout, the styling of its various animations, and the flow of moving through the app all contribute to something that looks and works perfectly.
I really wish that Eventbox had more of a purpose because it's such a joy to work with.
Overall
I hope it's pretty clear how I feel about Eventbox. It's a beautifully designed application that I have no use for. There is praise coming from all around, but I can't sing the same tune. I love Facebook, Twitter, Flickr, and the rest of the social networking sites, but I already have a browser, and my homepage (Netvibes.com) already puts those sites together.