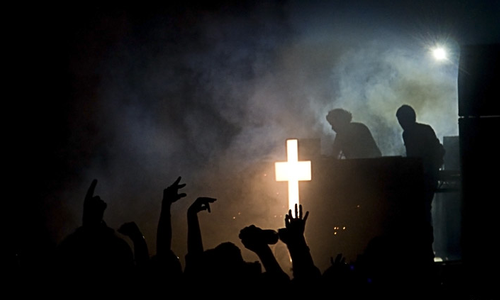 Who puts out a live CD/DVD combo when they've only released one LP and a couple EPs? I mean, it's not like a headlining electronic act could build an entire show off of one album… Unless of course, it's Justice we're talking about.
Instead of going over the history of Justice, which you probably already know, let's jump right into the track-by-track (I've combined some tracks that are split into two on the CD).
Intro (?/5) – Like listening to people screaming in anticipation? Then put this track on repeat for a few hours. I can't really rate it because it's just an intro track.
Genesis (4/5) – Those horns… There might not be a better way to begin the live show. They're mean, ugly, and they perfectly symbolize what Justice has done to dance music. As much as the Intro track is a welcoming to the live show when siting on your couch, Genesis is the intro to the live show when you're on your feet and the lights just went out. It does it's job well, but it suffer from a problem that runs through the entire show: Justice can't find a groove to let people dance to (I'll elaborate later).
Phantom Part I & I.5 (4/5) – Genesis dies out, and that infamous synth line comes in. Right from the get-go, Justice is chopping the track up with the "boom-kat-boom-kat" drums that are featured in all their songs. Part I is a straightforward Phantom Pt I, and Part I.5 is more Phantom Pt I as an segway to D.A.N.C.E. It jumps back and forth between Phantom and a spacy kinda-arped synth; it serves as a way to slow the show down a bit.
D.A.N.C.E. Part I & II (4/5) – Beginning with the acapella vocals, D.A.N.C.E. Part I leaves behind the funky groove that usually accompanies these vocals (a piano does eventually join in). No problem, acapella basically means sing-a-long to the audience, and it works pretty well seeing as everyone knows the lyrics. Part I ends by speeding up and giving into the faster, more eletro-oriented Part II. I have no idea what hardware Justice uses to get these unbelievable synths, but the one that comes with Part II is brand new and amazing. It really carries Part II through it's 3 minute extension of Part I. These two parts of D.A.N.C.E. are perfect evidence of why Justice has been able to turn a 40 minute LP into an hour and a half live show.
DVNO (4/5) – Losing no momentum, DVNO comes in with the same synth that went with D.A.N.C.E. Part II. I hated this song on the album at first, but the radio edit and this live version have converted me. The vocals aren't sluggish and abrasive anymore, they're smooth and provide another sing-a-long. This track undergoes it's fair share of chopping and splicing (thanks to Ableton Live, I believe).
Waters of Nazareth (Prelude) (3/5) – This track serves as a quasi-extension to keep the audience interested without becoming fatigued. It isn't really Waters of Nazareth, but some small parts of the song are mixed in. There are some vocals included I don't recognize, but they aren't a big part of the song. It's only a two minute segway, and 15 seconds of it are the break down that lead into One Minute to Midnight.
One Minute to Midnight (3/5) – One of the most interesting tracks on the LP to me. It didn't receive much attention, but it's cool in a different way than the rest of the songs. Unfortunately, it's also used as a semi-segway to the next song in the live show.
Tthhee Ppaarrttyy (0/5) – Call me a hater, but this track should never have been included on the album. Just because Uffie is a label-mate of Justice doesn't mean that she's necessary. Luckily for Justice, there are a TON of people who do love this song. The crowd roars throughout the whole thing.
Let There Be Light (5/5) – The name of this track couldn't be more appropriate here. It begins at a snails pace and builds to its true tempo of over 120 bpm. This song and the synths that come along with it seem to want to rip each other to shreds from start to finish. There are high-pitched repeated screaming sounds contrasted against a super-low grinding bass that somehow come together with the same drums that are in all the songs. I guess to showcase some of their remixes, Justice also includes a small sample from their remix of Scenario Dance's Skitzo Dancer. You know, the one where it says "disco" over and over and over.
Stress (4/5) – Some reviews call this the highlight of the show. I disagree. While this "Auto Remix" of Stress is quite a feat in how much it differs from the original while still maintaining it's tones (of stress), it doesn't ever really go anywhere. It builds, and builds, and builds, but when the drums hit, they just seem awkward and don't reach that climax that electronic tracks are meant to. The bouncing strings are awesome, but again, they don't go anywhere. At the end of the song, the bass line from We Are Your Friends comes in.

We Are Your Friends

(Reprise) (5/5) – If I called D.A.N.C.E. and DVNO sing-a-longs, they are nothing compared to We Are Your Friends. As Justice's first single as a remix of Simian's Never Be Alone, it's what begun the never-ending hype that surrounds Justice. Instead of playing the vocals in their entirety, Justice just plays the first word of each line and lets the audience finish it. The gimmick works, and the live recording captures the beck-and-call perfectly. In my opinion, this is Justice's happiest song. It's dead simple in its construction, and the distortion and grit that is in the rest of their songs is no where to be found (except when they go into the Metallica song…)
Waters of Nazareth (5/5) – This is the real Waters of Nazareth. While We Are Your Friends is Justice's happiest track, this is without a doubt their angriest. It's the first Justice song I ever heard, and at the time it convinced me that Justice was an industrial-dance duo. Justice has turned the public's perception of electronic music on its head. No longer do you have to be in a club listening to "unst-unst-unst" bobbing our head all night. Now you can be at a street festival with thousands of people doing some amalgamation of dancing, jumping, and moshing. Justice might be a fad (it's seeming less and less likely though), but the closest thing I can compare them to is The Prodigy.
Phantom Pt II (5/5) – Forget Stress, Phantom Pt II is the real climax of this album and of the live show. It's what everyone has wanted to hear all night, and when it comes up to speed, everyone basically goes apeshitcrazy. This version of the song is a mix of the original, the Soulwax remix, and I believe the Boys Noize remix. It's as close to perfect as you can get. It would be perfect if it didn't have that damn lady talking in random spots. Forgetting the lady, I love this song. I've listened to it way too many times. It brings be back to when I saw Justice at Street Scene earlier this year in the same way that the Encore song from Daft Punk's Alive 2008 album brings me back to when I saw them last year.
Encore We Are Your Friends (Piano) – It's a short song that brings in the encore. Nothing special.
NY Excuse – Honestly, I don't really like this song. It's really interesting, but I think it takes too long to get where it wants to go, and when it gets there, it sounds like it's trying to be We Are Your Friends + Justice distortion, but it falls short (run-on sentence, I know).
Final Metalica – Bringing Metallica to an electro show is pretty much what Justice is about. It's a good final song. They pump up the 4/4 beats and speed it up; it closes the show nicely.
Overall, I think I'd give the album a 4/5. That last point is lost to the fact that Gaspard and Xavier don't frequent dance floors. Only in Phantom Part II does the live show give the audience a groove to dance to. In other places it tries, but the songs are cut short by breakdowns or transitions that leave the beat out. To bring up the Daft Punk comparison, I feel that this was something that Daft Punk did flawlessly. They know how an audience reacts to certain songs. They understand that fatigue sets in when you leave the energy too high too long. I hope that Justice can learn these things over time and improve their sets accordingly.