Note: This is the second half of my Nine Inch Nails – Lights In The Sky 2008 Tour. The first half (from Seattle) can be found here.
I love Nine Inch Nails. I love Nine Inch Nails so much that when their Lights Over North America Tour was announced, I went twice. Seattle was amazing because I had no idea what to expect save for a great light show; LA was amazing because I knew exactly what to expect. Maybe that makes some sense, just read on if it doesn't (and if it does…)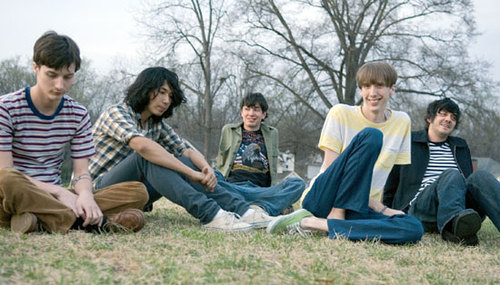 Deerhunter
+10 points for being LA when Deerhunter came around. Crystal Castles sort of bombed in Seattle because no one knew who they were. Admittedly, while they are getting pretty big in the indie world, I can't really expect a bunch of metal-heads to be too interested with the 8-bit/electro/indie scene. I love both Crystal Castles and Deerhunter, and so do people in LA.
Bradford Cox is one freaking looking dude. The rest of Deerhunter looks fairly normal for an indie noise/ambient/rock group, but Cox stands out like a sore thumb. Luckily for us all, the music that roars out of the speaker towers makes you quickly forget any oddity that Deerhunter embodies. Their set was about 30 minutes long, just long enough for them to find a nice balance between their noise material and their more rocky/beat-driven songs. It went smoothly, and I think everyone enjoyed the set.
Nine Inch Nails
When I say that I fully knew what to expect the night of the concert, I honestly mean it. I wasn't expecting anything new to come up. Maybe they'd tightened things up on the corners (not to say that the Seattle show was sloppy), but the show is so massive that it seems nearly impossible to change anything at all. Turns out I was fairly wrong.
Aside from the different set list (which I'll discuss later), the light show had changed, and the performances were out of this world. In the Seattle post, I mention that this lineup is the best that NIN has ever had, but I said that because of how good they sounded. At the LA show, I realized that every member of the band brings something unique to the table besides their musical expertise. Whether being menacing, aggressive, staid, precise, or one of the many other things that each are on stage, NIN has captured what an over-the-top live show is.
One change to the light show from Seattle was the inclusion of a face morphing graphic during The Hand That Feeds. I don't recall what was going on at that time in Seattle, but there certainly wasn't a massive George W. Bush being shown. That night in Inglewood, the only graphic shown was Bush who seemed to be getting progressively older as the song went on. I thought it was weird, until I realized that Bush wasn't getting older. He was morphing into John McCain. I say this with all honesty, I really thought he was just getting older at first…
The songs that were played throughout the night (+2 from the Seattle show) differed slightly from other tour dates. Unfortunately for me, The Great Destroyer was left out, so the insane spastic strobes and static that the song encompasses was greatly missed. God Given was played however, which almost makes up for the missed Destroyer. That song has a solid tech/glitch beat to it that makes me smile every time I hear it. The best part of the song though wasn't the music at all, it was Finck. When the chourus dies, this creepy whispered line some in
i would never tell you anything that wasn't absolutely true that hadn't come right from his mouth and he wants me to tell you
and the song starts right up when the whisper ends. Finck was the guy who did the whispering live. Talk about something that comes straight from your nightmares. They had the light shining on his face like he was telling a horror story (and he might as well have been). Of course, they closed with Hurt & In This Twilight. It was a night that, when paired with Seattle's date, makes up one of the best live shows I've ever seen.
Now I just have to seen them in a festival setting…
Set List
999,999
1,000,000
Letting You
Discipline
March of the Pigs
Head Down
The Frail
Closer (The Only Time)
Gave Up
The Warning
Vessel
5 Ghosts I
17 Ghosts II*
19 Ghosts III*
Ghosts Piggy
The Greater Good
Pinion
Wish
Terrible Lie
Survivalism
The Big Comedown
31 Ghosts IV
Only
The Hand That Feeds
Head Like A Hole
Echoplex
Reptile
God Given
Hurt
In This Twilight