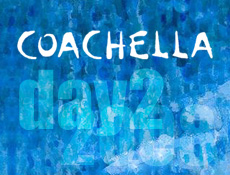 Heading back to the polo fields after an exhausting Friday, we knew that we'd be in for a treat on Saturday. From my standpoint (and that of many others) it was the strongest day by far. After the peanut butter sandwiches and water-bottles were loaded into the backpacks and the sunscreen amply applied, we trekked back to the pat-down lines and started Coachella Day 2. Here are the links to the different shows we saw on Saturday: Institubes, the Teenagers, Uffie feat. DJ Mehdi, Dredg, Boys Noize, Erol Alkan, Hot Chip, Portishead, Prince.
Saturday
Institubes (Para One, Orgasmic, Surkin)
A record label full of electro DJs is always a nice way to start a chock-full Coachella day. One nice thing about getting to Coachella near to opening (aside from the short lines) is that you have the ability to lay down in the tents and just listen to music. No more worrying about keeping your spot. Para One, Orgasmic, and Surkin served up the Institubes flavored electro for about an hour and a half, but I didn't stay for the whole time, I had other stuff to get to.
I'd say that I was pretty excited to see The Teenagers. The new album is interesting. It's not really full of songs, but I can't think of a good noun to apply to what they make. Too bad this sounded like crap. Maybe it was because I was sitting at the back of the tent, but the boring backing tunes with the annoying/incomprehensible voice didn't make for pleasent listening. But this is Coachella where music is everywhere all the time, so I left.
Leaving The Teenagers for Uffie & DJ Mehdi was a bad idea, but it was my only choice. Uffie really is the odd girl out on Ed Rec, and she sounds like crap live. She isn't much of a rapper, and there isn't any stage presence. One thing that was interesting was the guys running around the stage with Uffie and rapping along with her. Don't know who they were, but I hope that they don't try to ride up with her, they won't get anywhere.
Talk about a stark change in pace. Dredg was the fresh gust of wind that I needed, and their show was one of my favorites for the weekend. I was introduced to Dredg about a year ago, and I've been hooked on their progressive rock style ever since. The lead singer of the band has an amazing voice, but I was worried that it would be a studio voice and he'd be all over the place live. Not so. I couldn't have asked for a more solid performance.
Unfortunately, there wasn't too many people watching the show at the Outdoor Stage. This is Dredg's first year at Coachella (performing at least) even though they have 4 LPs already out. They really do deserve more attention than they get; they just don't have a marketable edge even though their music is amazing. I hope that their upcoming album stays true to their honest sound, they've been at it for a long time and I hope they get a break soon.
Beginning my last 2008 Sahara Tent run was Boys Noize, and I was fully prepared to have my face melted off. After the best DJ set of the weekend, it sufficiently was. I find it really interesting how France has such a firm grip on electro right now with Ed Banger and Institubes throwing out DJ after DJ, and here we have this single German guy who's killing all of their efforts. I don't mean to make it sound like a war of sorts, but Boys Noize is the dictator of all things electro right now.
His set consisted heavily of material from his album Oi Oi Oi, but he threw in some Bloc Party and Daft Punk for size. I must say that his remix of Feist's My Moon My Man is one of the best remixes (more like a re-interpretation) that I've ever heard, and I was so glad that he played it during his set. He did his trademark move where he puts the headphone-strap over his eyes and continues DJing a few times. All in all, it was just a electro set to rule all electro sets.
I don't know too much about Erol Alkan other than he doesn't tour in the US too much, so it was pretty cool to see him here. Following up Boys Noize is no easy task, and considering Alkan didn't really play any recognizable songs, I think of his set as a way to wind down from Boys Noize. It was a pretty high energy show, but you can't really top the best. I enjoyed the show, but I was really waiting around for Hot Chip.
I saw Hot Chip last year at Coachella for the first time, and they blew my socks off. They have such a high energy show that it's impossible not to love every moment that they are on stage. Lets consider a few things that changed this year from last: 1) Sahara Tent baby! 2) New album out 3) Later set time. All of these things contributed to an great performance that (by my standards) topped last year.
I think the biggest component of their live show that made it so incredible at Coachella is that they have a ton of material to play and a very short time to play it in. This means that they forego all of their slow-mid tempo songs for the raving mad ones. All of Made In The Dark translates perfectly to a live performance, and the seamless flow from song to song doesn't let the energy drop at all. It was pretty clear that they've worked on tidying up the loose ends over the past year. So much damn fun.
Admittedly, Kraftwerk isn't really my favorite band/group. I completely understand the massive impact that they have had on every genre of music that uses any kind of electrical instruments (they formed back in the 70s), but their music hasn't aged well in my opinion. While I'm sure some people were blown away, I guess it was cool. It was exactly what every YouTube video makes it out to be any nothing more. The screen behind them was nice, but again, exactly what's happened at every single one of their tour dates for the past 5+ years. I will concede that their music translates amazingly to a setting like Coachella. Their sound is so big that it just fills the fields with the electronic bleeps and pops of the past. Good, I guess, didn't wow me.
This is where my night turns golden. Portishead hasn't done much of anything (as a group) for the past 10/11 years, and I've listened to Dummy countless times since discovering the group as my interest in Massive Attack grew. Some music is awesome because of the great show that goes along with it (Daft Punk), some music is great because of its intensity (Rage Against the Machine), and some music is great because of the emotions that pour out of it (Portishead).
Portishead was by far my favorite act at Coachella 2008. Regardless of the fact that I probably won't ever see them again and any other factor other than the music that makes the existence of their performance at Coachella great, it really was the music that got me. Beth has said in interviews that lyrics are her way of communicating to people, and it really shows. In between songs, you could hear her faintly saying to Adrian and Geoff, "Say something… just say something into the microphone…"
Their twelve-song set consisted of the best songs from Dummy, Portishead, and Third. It really was a hauntingly moving experience. As a fan, it's nice to know when artists acknowledge some sort of connection with you, and as Geoff was walking off stage, he shot out, "Thanks for waiting so long." As anyone who's listened to Third all the way through, it was well worth the 10 years.
The surprise headliner for Saturday night was Prince, as everyone knows. Following Portishead isn't an easy thing to do, but really, this is Prince we are talking about. I wish that I had more to say about his show other than it was what a perfect funk/soul/R&B show is. He played about 20 songs in total over 2 hours (he ended at 1am, not midnight). The set was made up of 80s songs, plenty of covers, and some of his more recent singles.
Here are some of the highlights from the performance: Morris Day and Sheila E. opened with a few songs with Prince on guitar, Prince covered Radiohead's Creep (perfect choice for the Coachella crowd), he also covered the Beatles' Come Together, and the encore was a double dose of Purple Rain and Let's Go Crazy.
Seriously people, Portishead brought the melancholy, and Prince brought the party. It was one of the best nights of music I've been to.
These incredible pictures of the Coachella weekend are from Mick 0, Caesar Sebastian, and Jevon Feinblatt.