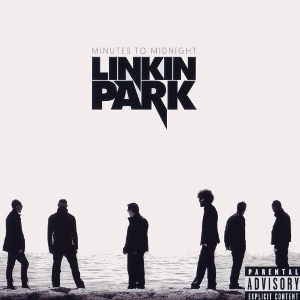 You ask for my guilty pleasure, and I will respond Linkin Park. I have loved them since Hybrid Theory; although I admit that I didn't get "Crawling" the first time I heard it. This "nu-metal" sound wasn't something that I was hooked on. Korn and Limp Bizkit were nowhere to be found in my music collection. Looking back at a time when pop music was *NSYNC or Britney Spears, Linkin Park offered me my first taste of what breakbeat or turntablism or metal or anything in between might be. In no way am I saying that they are the epitome of any of these styles, but with tiny bits thrown in here and there, teen angst and a tad of electronica struck a chord in my musical soul.
Now to this album, or how it compares to LP's previous two. Let it be known that I had high expectations for Minutes to Midnight. I loved the complexity of Meteora when compared to Hybrid Theory, but Hybrid Theory's raw edges drew me in too. Alongside the many critics and fans of LP, I believed that the rapping needed to find a different place after Meteora was done. Here, it has done just that. It is only featured in two or three tracks (but only one of those benefit from it).
Let's start with my favorite tracks: "Given Up", "Bleed It Out", "No More Sorrow", and "Shadow of the Day". If you have listened to the album, you will know that all but "Shadow of the Day" are fairly heavy, fast paced songs. "Bleed It Out" is the above-all winner on this CD. It does feature Mike's rapping (with profanities, see the PA sticker?); it is a showcase of what LP is. It has a very long buildup, but the slow addition of instruments as the song builds makes the climax even better. "Shadow of the Day" is the track that I feel shows the maturity of LP the most. It is slower, and its calculated nature is impressive to say the least.
The pacing of the album seems to have some rhyme or rhythm until the pattern of fast song/slow song goes on one too many times (around track 7: "Hands Held High"). Then we hit "Valentines Day", and any hope of another fast-paced hard rock song is lost forever; this track sucks. The biggest disappointments are "Hands Held High" and "The Little Things Give You Away". Why would anyone pick this song to close their "mature" album? It's slow, cliche, and boring.
As to the criticism that LP has diluted their material with ambient electronic landscapes, I have no idea where those ideas are coming from. Meteora was the electronic album. Minutes to Midnight is the rock album. Minutes to Midnight is a good album, but I don't feel that it is the best album that LP could have put out right now. It's a tad disappointing, I really wanted my next guilty pleasure album…