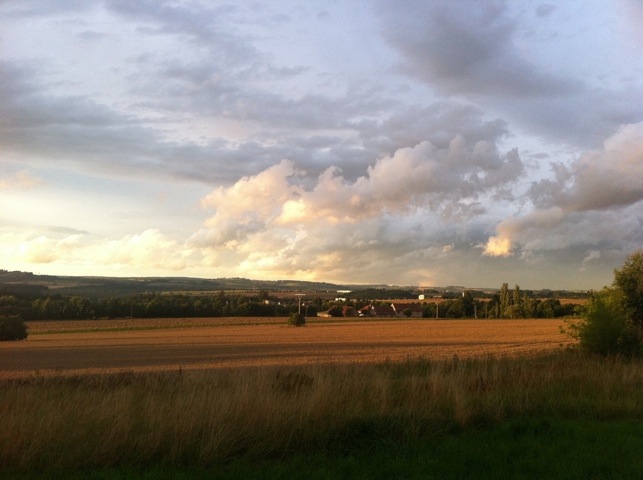 We will get to Prague if it kills us. And it might.
It's been a while since I've posted here, so here's a little summary of what's gone on since the last: we met up with Corrine in Budapest, our luggage didn't make the connection through Moscow (problem rectified), we had lunch with some amazing nuns who Corrine knew from last summer, we stayed with a couple that Corrine knew (this pattern continues through Hungary), we saw the sights of Budapest, we stayed with a family in Szekesfehevar (sp?), I celebrated my 22nd birthday, we went back to Budapest and stayed a night near Hero Square, we went to Vienna, we saw the sights in Vienna, we left our hostel in Vienna…
But right now we're on a bus to Prague. It has not been easy to get on this bus. We started this morning by heading out from our considerably nice Viennese hostel and got on the metro. During this time, it started raining. We got off where the bus station was, but spent a while trying to find it because even though international busses stop at this station, it turns out that it's just two inconspicuous signs on the side of the road. Then the bus came, and it was full. Then we went to the airport and waited for the next bus. We got on this one with one seat to spare. And now we're waiting at a gas station for a new bus because the back left tire of the bus decided that it really didn't feel like going to Prague today.
It's a good thing that the rain has caused some of the most beautiful cloud formations that I have ever seen because I think we're about seven hours behind schedule right now. There were some that rolled in waves that mirrored the land they blanketed, more that were like wisps and held close to the ground, and others that were massive bursts going up. The flatlands and hills we've seen this afternoon are amazing. Maybe it's ok that we'll get in around eleven tonight.
Ps: we're at our hostel now. It was flippin impossible to find.