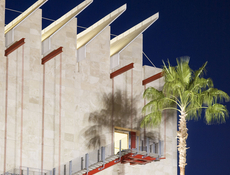 After having visited the various museums around LA (the Getty, Norton Simon, Huntington, and the various museums here at Exposition) over the past couple years, I finally made it to LACMA. Visiting museums presents a mild catch-22 for me: I don't like going without a group of other people, but I don't like to walk around with that group. I'd much prefer to go on my own and sit in one spot for a half hour if I want to without worrying about if the rest of the group is getting annoyed. Luckily, I've found that plenty of people feel the same way and don't really care if we stick together as a group or not.
On another "freshman outing" coordinated by the grad Radomir, about 10 of us headed down to check out the latest addition to LACMA: the BCAM (Broad Contemporary Art Museum). We started off the night at Souplantation, which turned out to essentially be a step up from college cafeteria-style dining. After wondering why a Frank Lloyd Wright quotation was on the wall and having our fill of soup, salad, bread, and desserts we embarked on the traffic-packed journey that was 3rd/Fairfax/Wilshire to LACMA.After 5pm, everyone gets in free, so being the cheep college students we are, that's exactly what we went for.
Starting off, the BACM goes top down (kinda like the Guggenheim I guess) and each of the three floors is massive. The first floor (which is actually the third) opens up to the exhibition that all the press in focusing on. The pieces are very large, metallic, incredibly shiny, balloon-shaped objects by Jeff Koons. These include dogs, an egg, and other things that are just big and colorful and reflective. Also in this exhibition are a few pieces by Andy Warhol. After spending a good part of a month focusing on Pop Art last semester, I've done a bit of reading on him and was very surprised to see his Elvis at LACMA. While only one copy was on display, it reminded me of the fact that they used to be displayed repeatedly overlapping across an entire wall. Very Pop and very gay, as was Warhol.
Of the three floors, the first had the largest pieces, the second had the most pantings/photography, and the third was all (I think) Richard Serra pieces. Again, last semester we spend quite a bit of time on installations and public art. Serra's Tilted Arc was the focus of our discussions, but his two pieces at LACMA are far more interesting in my opinions. While Tilted Arc is clearly a prime example of how public art can be received by its audience (and I agree that it was very intrusive), these two were not out in public, and I think that their place in a large hall is perfect.  Both pieces rise up about 10-15 feet and are made of rusted steel. One piece is a massive figure eight and the other (which we didn't spend much time at) was similarly contoured, but I'm not sure what its shape is.
After we left the BACM, we headed over the main part of LACMA, but our time was limited. In about an hour and a half, I saw some great Southern Californian pieces, a Rothko, two Pollocks, some Picassos, a Braque, and countless others. At 9, we were kicked out and LACMA closed. Naturally, we spend another hour driving aimlessly around LA and eventually wound up back on campus. It was a good night.