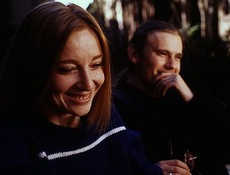 It's that time of the year again! The Coachella Valley Music & Arts Festival will be held from April 25-27, and after months of speculation, the official lineup has been released. Just as I did last year in preparation for Coachella, I will be reviewing some artists that will be at Coachella. Some of these artists I will be very familiar with, and others I will review after listening to them for the first time. To kick things off, here's Portishead!
Hailing from Bristol, England, Portishead (pronounced with a hard "s") has been pioneering the genre of trip-hop since the mid-90s when they released their first album "Dummy." While comparisons of artists can sometimes degrade one's opinion of them, I think that Portishead is a mashup of Massive Attack and Everything But the Girl (both of which I love).
Portishead's most recent release, 1998's Roseland NYC Live was published with a VHS (the DVD came in 2002). The video was (obviously) a live recording of material from "Dummy" and "Portishead" (their sophomore release) played by a massive orchestral enseamble plus drums, a turntable (possibly Geoff Barrow), and a Beth Gibbons. The shear size of the total number of musicians was astounding and created a sonic quality completely different than Portishead's LPs.
While I love Portishead and am avidly awaiting their third album (titled "Third"), I can't help but be apprehensive of their live performance. I doubt that they will put a full orchestra onstage, and downtempo probably don't make for the best shows. Regardless, the sound will undoubtedly be incredible, and I fully plan on seeing them closing Saturday.