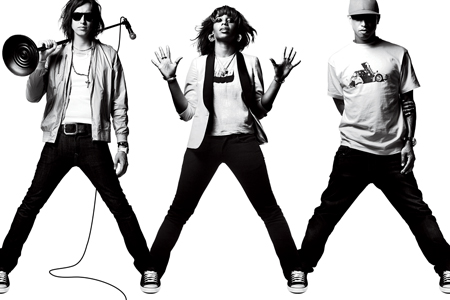 You know an amazing ad campaign the moment you see one. The one's you have to think about can be good, but I don't think that an effective ad doesn't need to be pondered much. Converse's recent ads featuring both dead & alive pop culture icons has been blowing me away since I first saw an image of it back a few months ago.
These ads break everything down to basics, while staying far away from any abstraction. The black and white photographs are perfect and just further the idea of simplicity that the ads convey. But the thing that really sends it over the edge (and makes them shoe ads) is the overlapping of each icon's feet. It might be cliche, but it's very fitting that what connects these artists is their shoes.
When showing other people these ads, they don't seem to recognize most of the icons. Regardless, each person's pose and composition lets any viewer know that they are bad-ass. No one dislikes the images, and as they follow their figures down to their feet, that last connection of the spread legs leading to the shoes hits every time.
Finally, a song supporting these ads has been released featuring Santogold, Julian Casablancas, and Pharrell titled "My Drive Thru [Play] [Play]
." It's a nice summer song and perfectly captures what this concept wants to say.
Thus far, here are the artists that have been featured in the many mix-mashed combinations:
Santogold
Bradford Cox (Deerhunter, Atlas Sound)
Common
Joan Jett (Joan Jett and the Blackhearts)
Billie Joe Armstrong (Green Day)
Kid Sister
M.I.A.
Sid Vicious (the Sex Pistols)
Pharrell (N.E.R.D., the Neptunes)
Karren O (Yeah Yeah Yeahs)
James Dean
Hunter S. Thompson
Ian Curtis
Julian Casablancas (the Strokes)
Jona Bechtolt (YACHT)
Frank Carter (Gallows)
Eleanor Friedberger (Fiery Furnaces)
Sophie Kasakove (Care Bears on Fire)
Morgan Quaintance (Does It Offend You Yeah)
Update (7/9/08): A video has been released for this song. Sick 2D special effects.