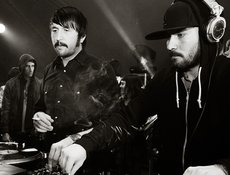 This post is a celebration of electronic music and the city of Los Angeles, or maybe just of music in general. Regardless, MSTRKRFT's show last night at the El Rey Theatre was insane. Being the second sold-out show of MSTRKRFT's two night stand in LA, it was obvious that the packed (and tiny) venue was full of people who share a love of hard-hitting electronic music.
Speaking quickly on the El Rey, this was my first time see a show there. I was supposed to see Hot Chip there about three weeks ago, but a sick band member postponed the show until April 28th (the day after Coachella). After looking at pictures online, it was obvious that the El Rey was pretty small, but catered perfectly to the pit people as well as the I-wanna-sit-down-and-just-listen people. Comparing, I'd say it's a bit more than half of the size of SOMA in San Diego. So there's my bit about the El Rey, and I will definitely be back soon.
So after my most sketch bus ride yet and arriving a half an hour before door time, we were finally let into the venue with LA Riots already spinning. I find it pretty interesting how venues ramp up the volume as the night goes on. Is it for the benefit of our ears, or because they want the headliners to hit that much harder? Anyways, I didn't really dig LA Riots' set. I love their online mixtapes, but this set wasn't anything like that. I consisted of a lot of tech-house, and only in the last 10-15 minutes did they throw in one or two of their original remixes or any contemporary stuff. Also, why did only one half of the duo do any spinning? Eh.
After LA Riots was finished (around 9), Z-Trip immediately stepped up to the tables on the opposite side of the stage (a definite perk of electronic music is the lack of downtime). Opening with Justice's Genesis probably isn't the best way for a hip-hop DJ to introduce himself to house crowd, but it at least got us excited. Unfortunately, his set didn't continue is that direction. Z-Trip is known as a pioneer of mashups, and it showed. He is a talented DJ/turntablist, and does far more than mix individual tracks together. While I wasn't completely into his entire set, credit must be given for his deft ability to blend Johnny Cash, Guns 'n Roses, Rage Against the Machine, Justice, the Beastie Boys, and Pink Floyd into one set.
So about half way through is 90 minute set, Z-Trip told us that he was trying out some stuff with drums included in the show, and a drummer came out and began to play along with Z-Trip spinning on the decks. It took a bit of getting in to, but eventually the mix got into the crowd. The sound of live drums layered against a DJ's scratching was fairly inventive, but it got really interesting when Z-Trip stepped away from the deck to play along with the drummer. It was just a crazy show of two guys banging on a single drum set and simultaneously switching positions (standing/sitting) while playing nonstop. After this, Z-Trip stepped back up and spun for about 15 more minutes before putting together a nice short speech about how hip-hop DJs and electro/house DJs touring together is a good thing for music. It was more a little announcement about appreciation of music in all of its forms. Thumbs up.
Onto the show we were all waiting for: MSTRKRFT. If you look down to the bottom of this post, you will see a few images, check out the one of the crowd. That's the Coachella 2007 crowd for MSTRKRFT's set, and I was in that crowd for about 10 minutes until I (foolishly) got bored of the end of DJ Heather's set mistaking it for MSTRKRFT. While I was walking away, Easy Love started, and I felt my stomach drop. I was already a ways away, so I kept walking. I vowed not to make that mistake again.
After the massive hockey mask was unveiled against the back wall, the music started. The great "thump" that MSTRKRFT is known for played throughout the entire set, save for the buildups and breakdowns of course. Getting off to a solid start, they threw in VUVUVU right off the bat, and while the song kills, I don't get why it would be a huge MIDI problem (as AL-P has said), unless the tempo was difficult to keep steady. Continuing on, the set was solid, and it was apparent that they can control a crowd almost as well as Daft Punk can; mixing the big hits with some newer (read: nonpopular) material is something they do well.
After throwing down a great set consisting of the Bloody Beatroots, Daft Punk, the Chemical Brothers, Stardust, and some original material,  the part of the show that I had been praying for finally arrived. This section of the set consisted of D.A.N.C.E (MSTRKRFT Remix), Wow (MSTRKRFT Remix), and I believe that Paris was played here as well. Justice's D.A.N.C.E. was 2007's club hit that went mainstream, and MSTRKRFT's remix of it is by far my favorite remix (out of the 27193 remixes that are floating around the blogs). So that knocked it out of the park. Then Wow was played, which is yet again, another MSTRKRFT remix fav. Kylie Minogue's original song is alright, but I don't think it's anything special. This remix is a perfect example of what Kylie+MSTRKRFT equals. This part of the set is what put the show over the top for me.
After announceing that they would be heading over to LAX after the show because they were getting kicked out of the El Rey, they ended with Daft Punk's One More Time as followed by Justice's Phantom Pt. II (Soulwax Remix). It was a great finale, and I left satisfied. If you need an example of what this duo does to a crowd (and you haven't followed my directions from above), click on the Coachella 2007 crowd, it's one of my favorite Coachella pictures.