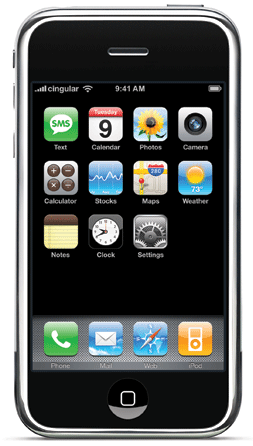 I will confess, although I am no Apple-fanboy (yet), their commercials and advertising practices are truly impressive. If I owned a business, I would kidnap every person on their PR and marketing teams. Like many, I was very disturbed by the iPhone ads that were recently shown of about a million famous people saying "hello?"; they were annoying, repetitive, and didn't tell me anything about this supposedly revolutionary device. Now, after seeing the new iPhone ads, I'm glad that Apple has returned to their minimalistic style.
These new ads are very basic in nature. What do they show? How to work the device. Through clever workflow ideas (Calamari) they display the ways that the iPhone can easily switch from and to each different function in-between sessions. The narrator is soothing, the music appropriate, and the visual part is as simple as it can get: a hand holding an iPhone. Then again, it does have one level of complexity at times; its that damn second hand.
That second hand is going to be a big problem for Apple. The fact that the iPod is completely functional is one hand is amazing (but this attribute is repeatable). June 29th is the launch date according to these commercials.
Update: TUAW did an article about these new ads saying that the Mac ads should be more like this. I can't agree enough. I feel that the Mac ads are rude and elitist. They are what make me NOT want to be like the Mac guy.